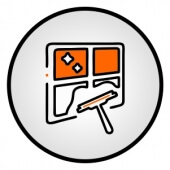 Window Cleaning Services for both homes and offices
We are going to give you our services for both homes and offices. Essentially, the window cleaners that they can easily toggle between cleaning the large windows of corporate offices to the smaller and more intimate panes of your homes.
Residential cleaning, however, is a specialty of ours. Our window cleaners have cleaned all types of windows of several residential buildings – including apartments, suburban houses, and even villas. Our professional window cleaners are good enough to make sure that the cleaning done is consummately. You house will be looking quite splendid after we are done with the residential cleaning.
We make it crystal clear
When you want the window to be cleaned to perfection, then you will need the help of the professional window cleaners in SMS Cleaning Services. We will make sure that the windows that are there in your office are cleaned to perfection. When we mean crystal, we mean it. Our window cleaners are indeed capable of making the windows gleam and transparent.
The best method
Our window cleaners have had the adequate training to ensure that the cleaning occurs without flaw or any cracks. Their subtle and experienced hands can get any stains off the glass without affecting the color or shine. Their expertise makes sure that the window cleaning is done to perfection.