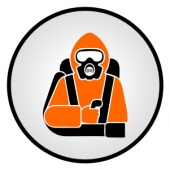 The recent outbreak of the coronavirus, also known as COVID-19, has made it vital to take the necessary actions to keep our homes healthy and At SMS Cleaning Services it become our duty to ensure that you and your home & offices  gets the best treatment it needs to keep you and your family safe.
Our company provides a Professional Disinfection service that has an immediate effect in killing more than 99.9% of bacteria and viruses and it is Hospital-grade disinfectant. The disinfectant will protect the house/office for 10 days.
Our crew has experience and expertise to get rid of dust and dirt, fungi, viruses, bacteria, organic matter, mold, insects, dust bites, and much more.
We will cover:
House/ Villa/ Apartment

Offices Buildings

Nursery & Schools

College & University

Play Academes and Play Grounds

Cafeterias

Canteens, cafes, restaurants, hotels

Warehouses / Stores / Food Warehouses

Shops

Buses/ Personal Vehicles

Ships/ Yachts​​

 

​

 

​
​​
Product Used for Disinfect
The active ingredient of the disinfectant Vital Oxide and Bacoban is approved by the Dubai Municipality. Disinfectant treatment which has an antiseptic and disinfectant is not harmful to the skin, kills all viruses and pathogens within minutes, started to be used throughout the area. Applicable on solid or porous surfaces, fabrics, metals, stones, Granites, plastic, glass, Plexiglas, wood, leather, paint or varnished coated surfaces. Eliminate unpleasant odour due to proliferation of bacteria, fungi and other microorganisms. Water based, does not contain aldehyde or phenol.
Our disinfection service is  approved and certified by German product Bacoban that meets the European standards of quality. Our disinfection method has been:
Certified by Microlab
Certified for Virucidial activity against novel Coronavirus
Certified by EU Directive
Certified by Food Grade ISEGA
Certified by Dubai Municipality
Tested and confirmed effectiveness against Ebola and Filoviruses
Proven effective against HIV, SARS, MERS, H1N1, Swine Flu, H7N9 and other pathogens​
Disinfection Process
Surfaces are then sprayed with the sanitization solution and left to for 10-15mins to dissolve and automatically absorbed.
The final step is to wipe all wet areas where the sanitizer was remain with wipes. For floor we will spray chemical and after 15 min we will wipe with flat mop. All the things are un-used (we use new equipment for every visit).
We also wipe down areas that are frequently touched such as doorknobs, armrests, tables, switches, counters, light controls, seat backs, handrails, keyboards, etc with disinfectant.
The treatment is:
Harmless for children and pets
Non-hazardous
Non-poisonous
Bleach-free
Leaves a bacteria-free surfaces and areas
Regular cleaning vs. sanitization
Regular cleaning uses standard cleaning equipment and materials to clean and wipe away all dust and dirt from surfaces, tops and furniture in your home.
The process of disinfection and sanitization requires special biocides, chemicals, and equipment, and a lot of time, and thus it is better to let professionals handle it for you.The service includes a Wiping of your home and office, followed by disinfection and sanitization to ensure your home is completely germ free.
We recommend that all windows and doors be closed and AC turned off during the process as well as 15-20 minutes after the sanitization session is completed.
Our crew will bring all necessary materials (machine, sanitizing solution, cloths, mask, suite and gloves) – a power outlet is required to connect the machine.
Depending on how well cleanliness is maintained, the disinfectant will protect the house/office for 10 days.
So far, we have been able to disinfect multiple homes, offices, warehouses, labor camps and helped over 200,000 square-feet get disinfected and sanitized. We feel it's our duty to help thousands of more homes & offices and contribute in helping during the current scenarios the world is facing. We would not rest till we make it happen.